'World-class is a journey' – we've heard it, I believe in it, and I've seen companies putting this into practice.  While it is a useful tagline that has inspired many to commence a continuous improvement journey, there are many that don't start this journey, due to two fundamentally flawed paradigms:
We are there: With this mindset companies / organisations believe that they are already operating in the upper quartile – perhaps due to pockets of excellence delivering good results sporadically. There's so much more to be achieved if the missing gaps can be plugged to deliver superior results consistently. A journey to world-class, implementing Operational Excellence principles and practices, is not something you start when 'everything' else is in place.  It is not something you do 'on top of' the business-as-usual activities – it is about the way you operate.


Not ready to start:

When existing processes and systems are so far behind, companies believe that they have 'bigger issues' to fix and therefore, are not able to even "start" a journey. You'd be surprised how much of latent potential can be released by doing the little things. An individual never stops learning and deepening one's knowledge throughout one's entire lifetime. Similarly, a journey to world-class is not a destination you arrive at and stop. It is a way of life where it becomes continually easier to continually improve.
Both these paradigms prevent your team and your company/organisation achieving its real value and potential.  Here's a bit more
detail looking at this from different perspectives.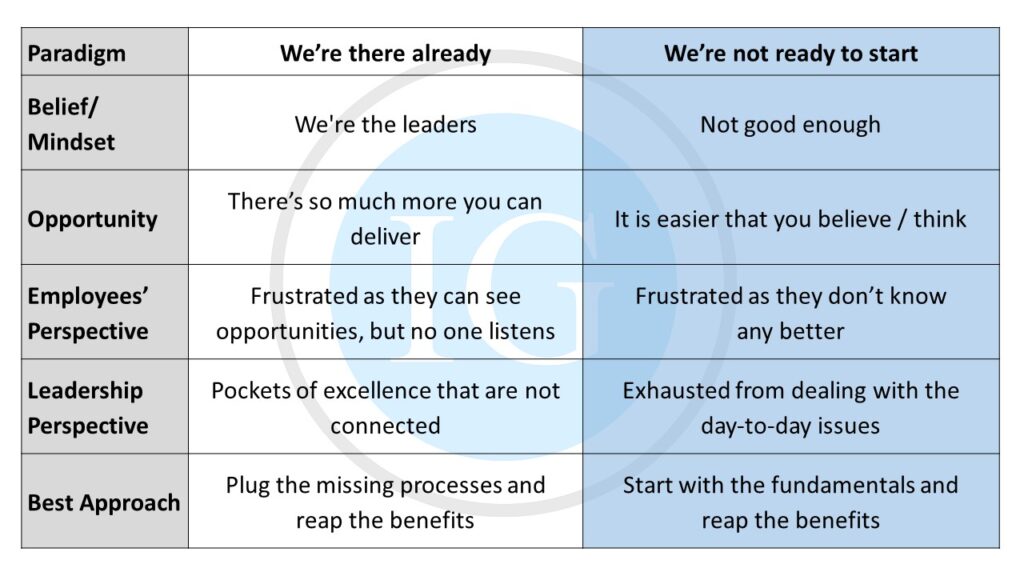 Excellence is a Journey: Start It, Support It and Sustain It.