Supply Chain Excellence, Operational Excellence (OpEx), World-Class Manufacturing – a few terminologies used to describe frameworks that help organisations continually shift performance year-on-year.
Each year, there are two reports that I eagerly read with regards to global Supply Chain Excellence; Gartner's Global Top 25 Supply Chain report and Supply Chains to Admire report by Supply Chain Insights.
Gartner's top25 is based on both quantitative analytics and qualitative industry peer-to-peer analysis. The Supply Chains to Admire report is purely based on the analysis of balanced scorecards of each organisation. When we look at the companies leading on both reports, one can understand why such complex calculations are needed to determine the ranking. They are the best of the best.
However, for most organisations, sometimes even large ones, OpEx doesn't need to be that complicated. In fact, I'm currently helping a global healthcare company to design their Supply Chain Excellence framework and their view is also to keep things simple.
One of the ways that many organisations keep this simplified is by focusing on the manufacturing sites only – making it essentially a manufacturing excellence framework. It makes sense – the lion share of the cost of goods sold (COGS) belongs to activities that happen insides the four walls of manufacturing. So, is there a simplified OpEx framework that can be used to drive manufacturing performance, I hear you ask? Here it is.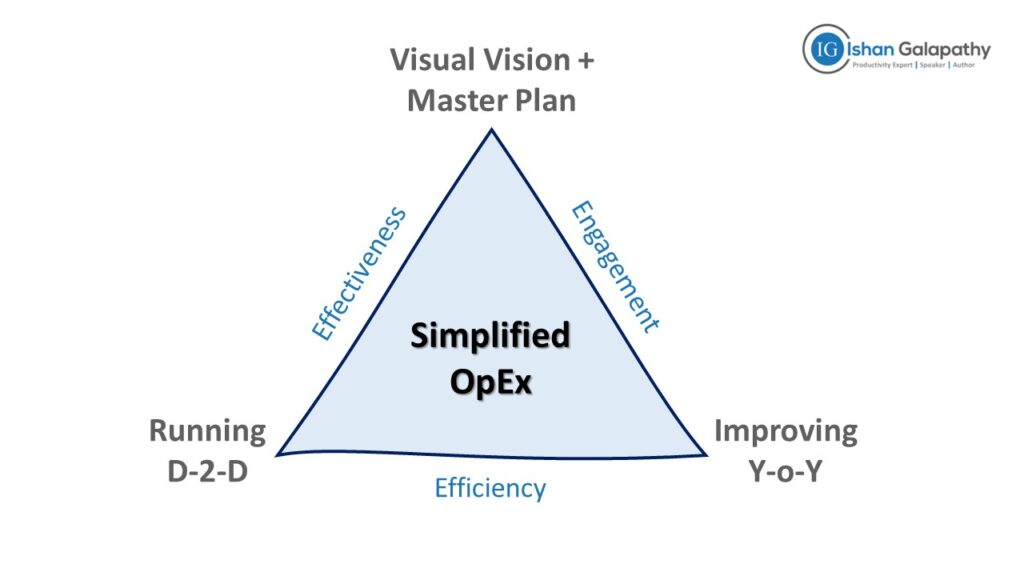 The above model is the condensed version of my latest book ADVANCE. Here's what you need to focus on:
Visual Vision + Master Plan: It is the next step beyond 'strategy on a page'. Create a visual with a slogan to inspire, drive and motivate the troops on site. Have this displayed everywhere. Create a rolling 12months master plan for the next 4 quarters indicating the key projects and initiatives to be deployed. Be disciplined – if it is not on the plan, it is not happening.

Running Day-2-Day: Many manufacturing leaders will be familiar with the tiered huddle meetings structure – from hourly, to shift(ly), daily, weekly and monthly. The concept is not new. I want you to check a few things for me. Are the boards visual enough that one can diagnose if the team is winning or losing from 5meters away in 5secs? Are there actions being captured and completed on time? Is there a governance structure to ensure that all meetings occur as intended?

Improving Year-on-Year: Using any structured problem-solving framework (Six-Sigma, Toyota A3 etc) to solve constrains as per the master plan. These initiatives would be anything that are either holding back your business (breakdowns, waste, sub-optimal performance etc) or opportunities to grow as per your strategic plan (throughput increases, introduction of new products etc).
The outcomes of working to this model are engaged employees, effective measures, and efficient processes. I'd welcome any feedback on why the above wouldn't be sufficient to continue to improve your business year-on-year.
The essence of this framework can further be simplified. Draw a line in the middle of the triangle. Everything to the left is how you Manage Today. Everything to the right is how you Lead Tomorrow. Is this not the essence of Operational Excellence?