I've appeared on stages, podcasts, newspapers, radio and industry magazines over the years, but last week I had the opportunity to be interviewed for TV – my first. The topic – current state of the Australian manufacturing sector and how to advance it.
The opening question from Ticker News anchor-man Adrian Franklin was, where is the Australian manufacturing sector right now? My response – it's a tale of two halves. On one aspect, we've shown how agile we are, particularly over the last 15months, responding to local needs when global supply chains shut down. On the other side of the coin, we have a situation where the overall supply chain maturity has dropped by six percentage points from 52 to 46, despite heavy focus and investments in automation and technology (Source: The State of Supply Chain Management Report 2020, Australasian Supply Chain Institute). And we need to ask ourselves why is it so?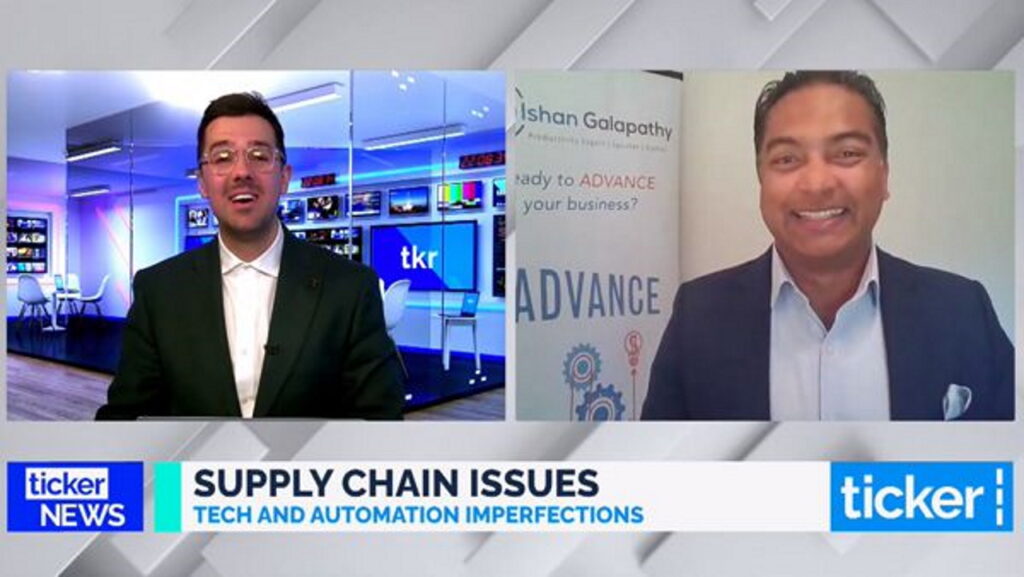 Here's the summary of the rest of the interview:
What are the common mistakes made when implementing technology and automation? Using technology as a silver bullet to drive cost down and taking a 'cost cutting' approach by tightening Profit & Loss (P&L) expense lines items are generally the common mistakes. Many golden opportunities are hidden and don't appear on the P&L. During my corporate days, I remember how an operator identified a $250,000 improvement by simply repositioning a cheese sprinkler during a conversation on the factory floor. All that was needed was a $20,000 customised sprinkler! I couldn't have envisaged this opportunity through the P&L, as the usage of that ingredient was within the standard levels. The operator's idea was to go beyond the normal state.
How do we shift the dial on the Australian manufacturing sector? Right now, Australian manufacturing is at the lowest point it has ever been in history (in terms of GDP contribution), but it doesn't need to be. The Australian government is investing $1.5 billion to resuscitate this ailing sector, primarily through technological advances. However, many small to medium-sized manufacturing businesses are missing some of the fundamental business processes, preventing them from leveraging technological interventions. If we get these fundamentals in place, the government's $1.5B investment can have an even better return on investment. Perhaps even to grow this sector to explore export markets, more so than today.
Australian manufacturing sector is at an interesting point, having shown its durability, adaptability and agility over the past 15months, to showcase to the world our true spirit, grit and capability.
I'm glad to be part of this journey and keen to hear what your business is working on to advance the Australian Manufacturing sector. Drop me note, really, would love to hear from you. Click here to reply