Over the last couple of weeks, we've been exploring a simplified framework on how to improve productivity in our personal lives. We've adopted tools, techniques and concepts that have helped the manufacturing sector to shift performance and productivity, for decades.
Having explored how to identify opportunities first, then effectively prioritising initiatives to work on, today we will explore some concepts on how to get traction and maintain momentum in our daily lives. It's a bit like choosing the right gear depending on the situation to ensure that your car is always maintaining momentum. You need to shift to a lower gear to get started from still or climbing a steep hill. Once you're on the highway, you can advance to a higher gear to maintain speed with less effort.
The framework below will provide you with five activities or approaches that you need to arm yourself with, a bit like the five gears in the car, to always keep you moving.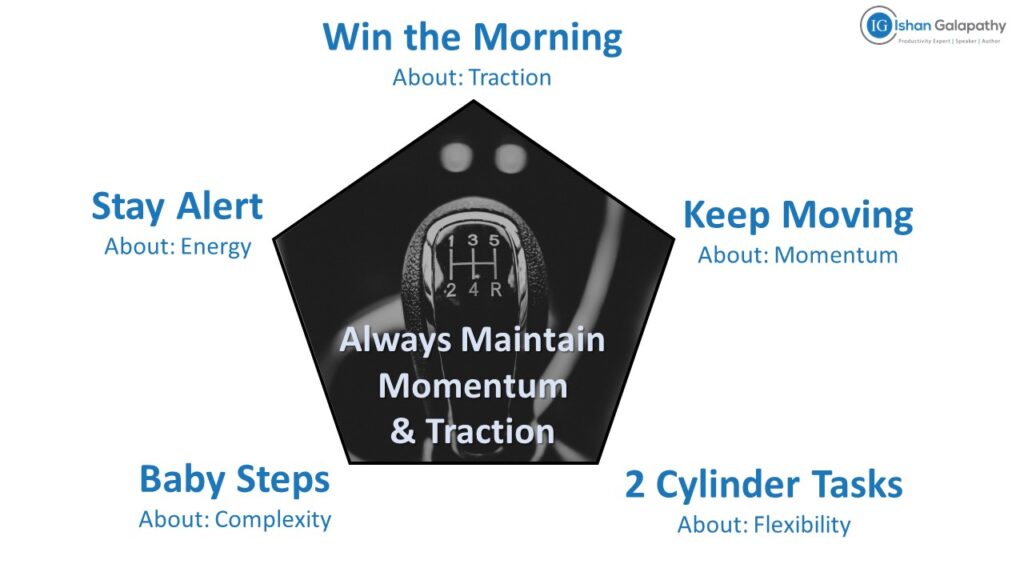 WIN THE MORNING
We all know the importance of starting the day well. Get started on the one or two tasks that are most important for that day. Develop a habit to reviewing your calendar for the following day, every evening, before you wrap things up. Write down the task for you to get started with the following morning. Make it easier to get going in the morning by reducing the friction – for example, if you're keen to read that new book you purchased, find it and place it on your desk. If you want to go out for a jog, then find the socks and shoes and place them by the door.
In his best-selling book Atomic Habits, author James Clear, talks about these tiny habits we need to develop in order to get traction. Author Robin Sharma, in his best-selling book The 5AM Club, talks about developing a daily routine to tackle the morning. What both Clear and Sharma emphasise is the importance of gaining traction in the morning.
KEEP MOVING
When we are stuck on a task, we want to have systems to get us out of that situation as quickly as possible. If the car gets bogged, there's no point in just pressing the accelerator to the max, as the wheels will just continue to spin without gaining traction. In manufacturing we have escalation processes for when machines breakdown – each person from operator, supervisor, technician to manager will notify the next person if the situation is not rectified or brought under control, in a specified time-period. The logic is to provide adequate time for each person to explore fixing the situation and seek assistance if they can't.
Similarly, in life I think there are two things we can do to get us out of bogged situations and get moving again. Firstly, we can reach out to colleagues, an accountability group if you have one or an expert to get some tips on how to get going. Secondly, put that task aside and get started on a different one. I find that letting an issue work through in the subconscious mind, while you work on different task, often helps to get clarity with the task that you were stuck on. This is about maintaining momentum at all times.
2 CYLINDER TASKS
Arm yourself with a list of tasks that can be carried out with very little effort. These could be things such as tasks on your To-Do list, podcast to listen to, email to reply or phone calls to make. When you find yourself with low energy or stuck in a queue waiting for your turn, you can quickly go to your '2 Cylinder Tasks' and tick-off as many of these as possible. These should have the flexibility to stop start with ease. These will be the filler tasks to fill-in the gaps in our schedule or help us get going again when struggling to find energy to shift to a higher gear. Use flexibility to your advantage and tick things off at the same time.
BABY STEPS
Often when we are challenged with a major task, we struggle to get started purely due to the size of the task itself. These then become our vulnerable moments when we tend to surrender to Netflix or YouTube. So, breakdown the task so that you can at least see the next two steps. Then take those two steps with confidence and you will see that the next steps will become clearer once you get there. If you're a detailed person always wanting to finalise the full plan before taking your first step, then the complexity of these large tasks is what paralyses you.
Moving with baby steps is a bit like driving on a highway at night in pitch darkness at high speed. Your headlights will only illuminate 10 to 20 metres ahead. Once you travel that distance, the next 20 metres will be illuminated and then continue the journey with confidence by only seeing a section of the road at a time. So, trust yourself, reduce the complexity and continue to take the step in front of you.
STAY ALERT
Managing our energy levels throughout the day is so important to maintain momentum delivering high quality work. With new working styles, many of us are now stuck behind screens, working from home and attending multiple virtual meetings for longer periods of time than before. Taking regular breaks to stretch your legs, get a bit of fresh air, focus your eyes on the horizon will not only help you to manage your energy physically, but will also provide you with better mental clarity as well. When driving long distances, we are told to take a break every two hours to reduce driver fatigue. I reckon the same applies when working behind the screen as well. This is all about managing your energy to deliver great results throughout the day.